The greatest luxury of all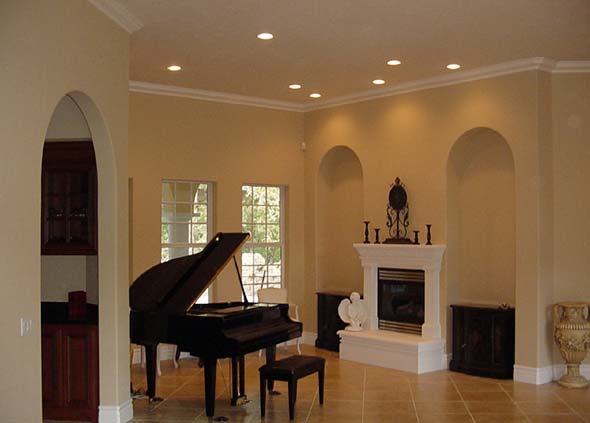 Knights' Electric knows the effect proper lighting can create in your home. We are experienced in delivering quality lighting systems to custom high-end properties with stringent design specifications for custom ambient lighting to provide a look and feel that you desire. Our expertise in residential lighting and lighting control is unsurpassed.
Knights' Electric team of qualified professionals can safely design and build a custom electrical system to give your home the look and feel you've always dreamed of. We understand every aspect of home energy, including audio/visual system infrastructure, structured cabling for home computer systems, automation and programmable lighting controls for mood with increased energy efficiency and back-up generators for power reliability.
Our Residential Services include:
Lutron Lighting and Automation Systems
System Integration and Automation
Telephone, Data, Infrastructure Installation
Home Theater, Entertainment, Infrastructure Installation
Automated Exterior/Interior Shades, Blinds, etc.
Landscape and Exterior Lighting
Radiant Heating
*Knights Electric is a Lutron Certified Designer and Installer.
Knights' Electric works with lighting designers, architects, contractors, and property owners to create a lighting plan that includes decorative fixtures, changeable track lighting and a lighting control system with dimmers and timers to create a mood or ambient lighting effects.
The key to reaching the desired lighting design is listening to the General Contractor, Architect, lighting designer, or to determine their needs and expectations, and then working with them to achieve the results they desire.
Custom Lighting
Knights' Electric has the resources to satisfy a customer's vision with educated suggestions, ideas and cost saving solutions to produce a lighting design that is pleasing and affordable within a proposed budget.
Give us a call, or fill out our contact form, to discuss your lighting needs and develop your customized lighting plan.
Lutron Certified Products
Whether you are looking for solutions for a single room, multiple rooms or interested in controlling the light throughout your home with a light control system, Knights' Electric can install Lutron products that give you the freedom to personalize your light in any space.
Lutron features systems that give you the ability to create a range of light levels in your home, rather than turning your lights full on. By seamlessly integrating electric light and daylight with Lutron shading solutions, Knights' Electric helps you create ambiance, add a "wow" factor, and save energy in your home.
Contact us about installing Lutron Certified Products in your home.